Aegean & Ionian Destinations
MYKONOS
Everyone has heard of Mykonos, the most famous island in the Aegean and the most popular destination in Greece, and in the world, for travellers of all types. Satisfy your appetite for luxury and adventure in this cosmopolitan island that provides whatever you desire!
Voted the top summer holiday destination time and again for good reason: exceptional beaches, award-winning restaurants, legendary parties, expensive yachts, dreamy villas, luxury hotels, beautiful people, 5 star service. Mykonos will seduce you. Awash in its iridescent Aegean light, which it shares with neighbouring Delos, you will be transformed. Put your finger on its pulse and you'll fall hopelessly in love.
Source: https://www.discovergreece.com
Port Authority Coastguard: +30 2289 022218
Tourist Police Station: +30 22890 22482
PAROS
Multilayered, multidimensional Paros will offer you whatever you desire, leaving you free to choose the holiday of your dreams. In the most popular cluster of islands in the Aegean, the Cyclades, Paros gives you the chance to enjoy the holiday of your dreams.
If you want to spend your days swimming, you'll find beaches large and small, secret and well-known. If you chase the wind, you'll rejoice in the plentiful world- famous beaches for kitesurfing and windsurfing.
Source: https://www.discovergreece.com
Coast Guard Naousa: +30 22840 51250
Tourist Police Station:+30 22840 21673
ANTIPAROS
When you disembark at the picturesque harbor of Antiparos, an enchanting aura will seduce you. White houses with blue brush strokes, paved alleys with bougainvillea and eucalyptus and an overwhelming atmosphere of optimism and positive vibes will welcome you.
It is an island that combines beauty with history and archaeological interest, nightlife with moments of relaxation and peace, intrepid hikes on nature trails of exceptional beauty with water sports.
Source: https://www.discovergreece.com
Port Authority Station: +30 22840 61485
Paros Tourist Police Station: +30 22890 22482
SANTORINI
Santorini erupts with charm. A volcano embraced by the Aegean, this island-phenomenon in the Cyclades gives its visitors a mythical experience.
Santorini – also known as Thera in Greek – is the island immortalized by poets and painters, thanks to its celebrated light, multi-coloured cliffs and picture-perfect sunsets.
On this island all senses are magnified, a product of its many contrasts: black earth against whitewashed homes clinging to the cliffside, or wild volcanic sculptures against sleek Cycladic lines.
Source: https://www.discovergreece.com
Port Authority: +30 22860 22239
Police Authority: +30 22860 22649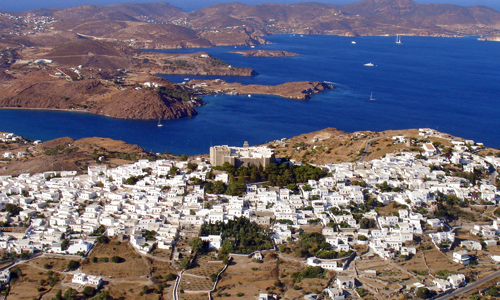 PATMOS
Grandeur and serenity. That's what you feel when you enter the streets of Hora and the monastery. For many years, during Orthodox Easter and all summer long, Patmos has been frequented by intellectuals, artists, royalty and celebrities from all over the world. Small and secluded yet spectacular all the same, it is the island of The Apocalypse, "The Jerusalem of the Aegean", and has a deep relationship with religion.
Mystical experiences await you here in the Dodecanese: In the dark cave where St John the Divine wrote the book of Revelation, the Monastery of St John the Theologian, and the labyrinthine streets of Hora with its impressive aristocratic homes. Visit and discover an island-monument that Unesco has declared a World Heritage Site.
Source: https://www.discovergreece.com
Port Authority: +30 22470 31231
Police: +30 22470 31303, +30 22470 44147
MILOS
Get to know the most exotic island in the Aegean. The island where the Venus de Milo was discovered, and one of the most impressive islands in the Cyclades. Volcanic rocks paint the beaches red, pink and orange. Sarakiniko and Kleftiko, with their white rock formations, emerald green waters and caves eroded by the sea, are steeped in stories of pirates.
The catacombs, the exotic beaches, the multicoloured Klima, Emborios and Mandrakia, with their quaint buildings cut into the cliffs, and Plaka's sunsets… All of these cry out in unison: Milos is unique.
Source: https://www.discovergreece.com
Port Authority: +30 22870 22100-1, 30 22870 23360
Police: +30 22870 21378, +30 22870 21204
CORFU
Corfu, the Grand Lady of the Ionian, is characterized by a series of mythical images. Nausica, the daughter of King Alkinoos, the man who saved Odysseus when he was shipwrecked in the Country of Phaeacians, which many have identified as the island of Corfu.
Sissi, the sad Empress of Austria and the Achilleion palace she built; the majestic Mon Repos, the 19thcentury summer residence built for the British High Commissioner and the Kaiser's Observatory, from where Wilhelm II looked out upon the iridescent Ionian.
Equally majestic are the iconic city mansions, the Liston Arcade and Spianada Square – the largest in the Balkans. Venetians, English, French, Russians, Greeks all lived and flourished here, and left their mark on the island's numerous sights and attractions.
Source: https://www.discovergreece.com
Port Authority: +30 26610 45551, +30 26610 39824
Tourist Police: +30 26610 29169, +30 26610 29168
POROS
Poros is a little island in the heart of the Saronic Gulf, close to Aegina and Agistri. Perched on the slopes a hill, overlooking the vast Aegean sea and the opposite Galatas, Poros Town is the center of the island's activity. What's more, in the picturesque Poros Town, you'll find a great selection of Poros hotels, shops, cafes, restaurants, and taverns.
Its proximity to the rest of the Saronic islands also makes Poros island Greece the perfect base for island hopping in Greece! So, your best bet is to combine your Poros holidays with getaways to Aegina, Agistri, and Hydra, for the ultimate Saronic experience.
Source: https://www.greeka.com
Port Authority: +30 22980 22274
Tourist Police: +30 22980 22256, +30 22980 22462
AEGINA
Aegina is the island closest to Athens. Here you'll enjoy ancient temples, stone-built Byzantine churches, a delightful old-fashioned port town, delicious local pistachio nuts, and a swimming season that lasts until late autumn.
This charming, welcoming island will entice you as it has thousands of others from around the world, who have chosen to make it their second home.
Source: https://www.discovergreece.com
Port Authority: +30 22970 22328
Police Authority: +30 22970 22100
HYDRA
The aristocratic island of Hydra invites you to experience its beauty that has enchanted international jet setters, artists like Chagall and Picasso and musicians like the late great Leonard Cohen.
The port town is cosmopolitan and elegant, with its 18th-century mansions, captains' homes, old churches, and marble-flagged steps that serve as streets on this steep island. A trip to take you back in time.
Source: https://www.discovergreece.com
Port Authority: +30 22980 52279
Police Station: +30 22980 52205
SPETSES
Τhe sea captains' island, Spetses promises la 'dolce vita', whether for a quick weekend getaway or a long holiday. Have a leisurely coffee in Dapia, as you look across the sea towards Kosta and Porto Heli on the Peloponnese.
Walk along the waterfront, past the handsome mansions below St Nicholas' church, to the Old Harbour with its traditional boatyards. Then visit the Bouboulina and Hatzigiannis-Mexis museums.
Source: https://www.discovergreece.com
Port Authority: +30 22980 72245
Police Authority: +30 22980 73100
MONEMVASIA
Monemvasia means "one entrance" and in fact the only access to this castle is via a causeway. This uniquely preserved mediaeval town is carved into the majestic grey rock like a sculpture. The "Gibraltar of the East" or a "stone ship" about to set sail, as the famous Greek poet Yannis Ritsos described his birthplace, is calling you for immediate boarding for a journey through time. Wander around the vaulted alleyways, churches and aristocratic mansions.
Take a swim in its crystal-clear waters and sample its delicious cuisine and legendary wine. Follow in the footsteps of knights, pirates, crusaders and emperors, who all fell under the spell of this mythical place in the Peloponnese. Here time stands still, and you'll become one with history.
Source: https://www.discovergreece.com
Port Authority: +30 27320 61266
Tourist Police: +30 27320 61210, +30 27320 61941
MANI

Dry, bare and rugged. The land of the prickly pear bristles with forbidding tower houses, stone villages, Byzantine chapels, delightful coves and astonishing caves. Mani. The people here are frugal and close-knit, still adhering to centuries-old bloodlines and family ties. Barricaded behind the crags of Mt Taygetos and ready for battle, the Maniots developed a powerful sense of autonomy, answerable to no one.
What you, the visitor, see today is only what they consider permissible. But you'll be overwhelmed with images of authentic Greece, because here in this corner of the Peloponnese, at the second-most southerly tip of continental Europe, everything is dramatic and bewitching.
Source: https://www.discovergreece.com
Gythio Port Authority: +30 27330 22262
Police: +30 27330 22271, +30 27330 22444